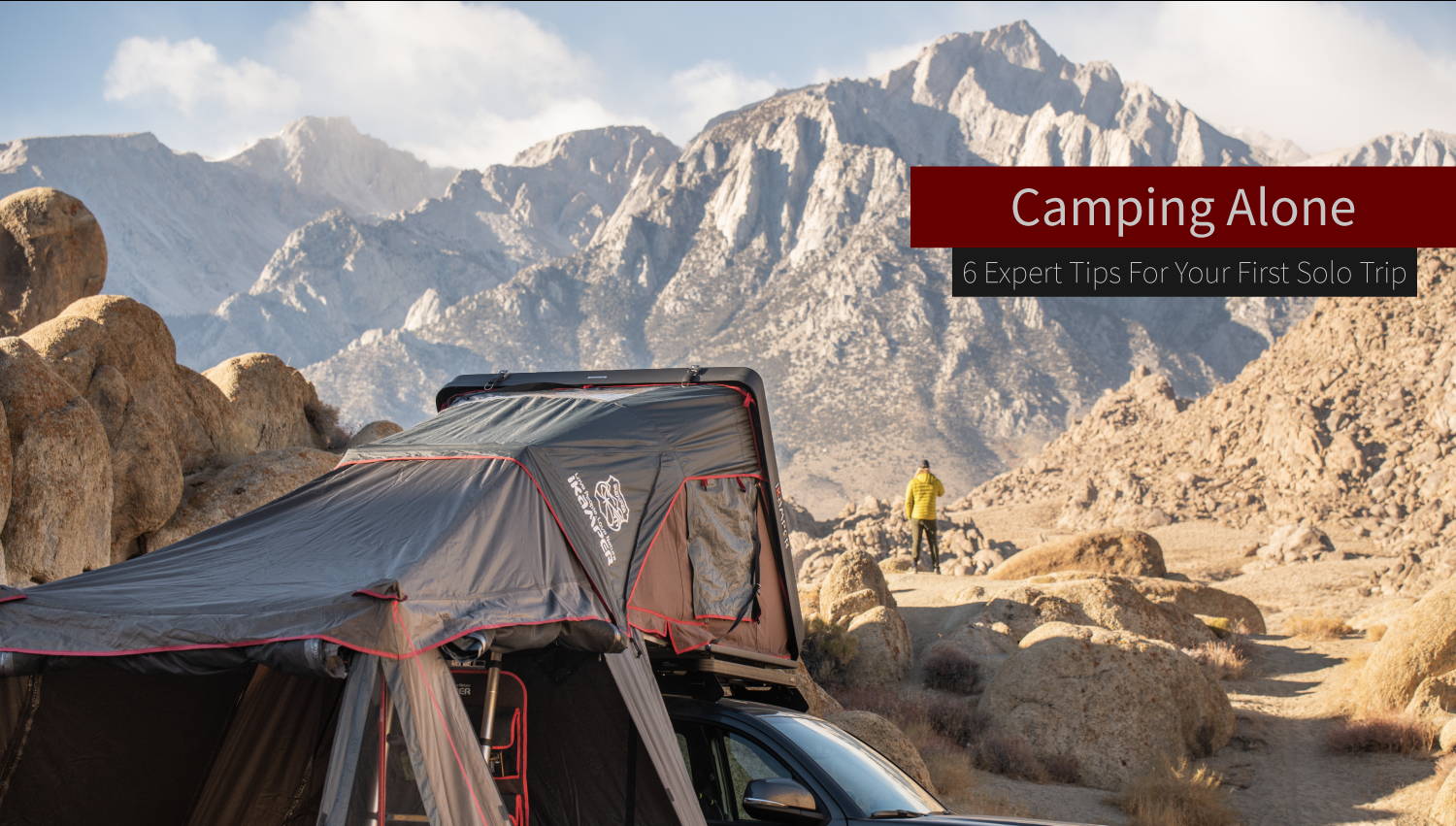 Camping alone might not seem like a natural idea for many, as we often think of camping as an experience we share with friends and family.
We frequently picture camping as a communal experience - one where we're huddled around the campfire as night falls, sharing a warm drink and enjoying nature in its purest form while telling stories and fighting off mosquitos.
This article isn't intended to take anything away from that magical experience, as camping with others shouldn't be compared at all to a solo camping trip; it's like comparing apples and oranges. Rather, in this article we want to convince you that even as a beginner, a solo camping trip can be an unforgettable experience you don't want to miss out on, and to give you 6 concrete tips that will make your solo trip a success.
Why you should try camping on your own
Camping alone is certainly not about having fun the same way that going to the movies is.
Instead, it can present you with challenges and thoughts you might not be familiar with in an increasingly distracted and hyper-connected world.
Simply put, the fact that there are no other people around you makes for an entirely unique camping adventure.
The absence of noisy chatter, laughter, complaining, or arguing provides a peaceful tranquility when camping solo. You are on your own and have time to exist in the present moment, as well as connect with nature around you.


As many solo campers can attest, the amount of details in nature that one starts to notice around them is astonishing! It's not only the birds chirping or the wind blowing, but also the trees swaying, stars flickering in the night sky, animals scurrying through the bushes, and insects buzzing in the air.


Oftentimes when camping with others we tend to focus on nature, tranquility, and a temporary escape from everyday responsibilities. What we can sometimes focus on instead are the more social aspects of the trip - the people we're with, the conversations we're having, or the topics we're discussing. This is not a bad thing at all; in fact, many people prefer to camp this way! But nonetheless, there is a very different kind of camping experience available to anyone who wants to try it.
To add to the nature-focused experience that a solo camping trip provides, there is the liberating aspect of being alone with your thoughts. They are free to wander and develop without boundaries or limitations. For some people this might be a really enjoyable experience, but others might be challenged to face their fears of being alone in the wild!
Ultimately, no matter where your mind wanders, a solo camping trip can be a cleansing and grounding experience.
At the same time, there are a load of other practical challenges ahead of you that you should be prepared to face while on your own.
No matter if you're camping for the first time or if you have plenty of experience with friends and family, preparing your food and making a fire are more difficult when performed on your own. Fortunately, iKamper roof top tents are a breeze to set up even when you're camping solo!
Even though it can be challenging, we definitely recommend that you try camping alone and immersing yourself in nature entirely. But we won't recommend you go without first providing some expert tips on how to make your first solo trip a success!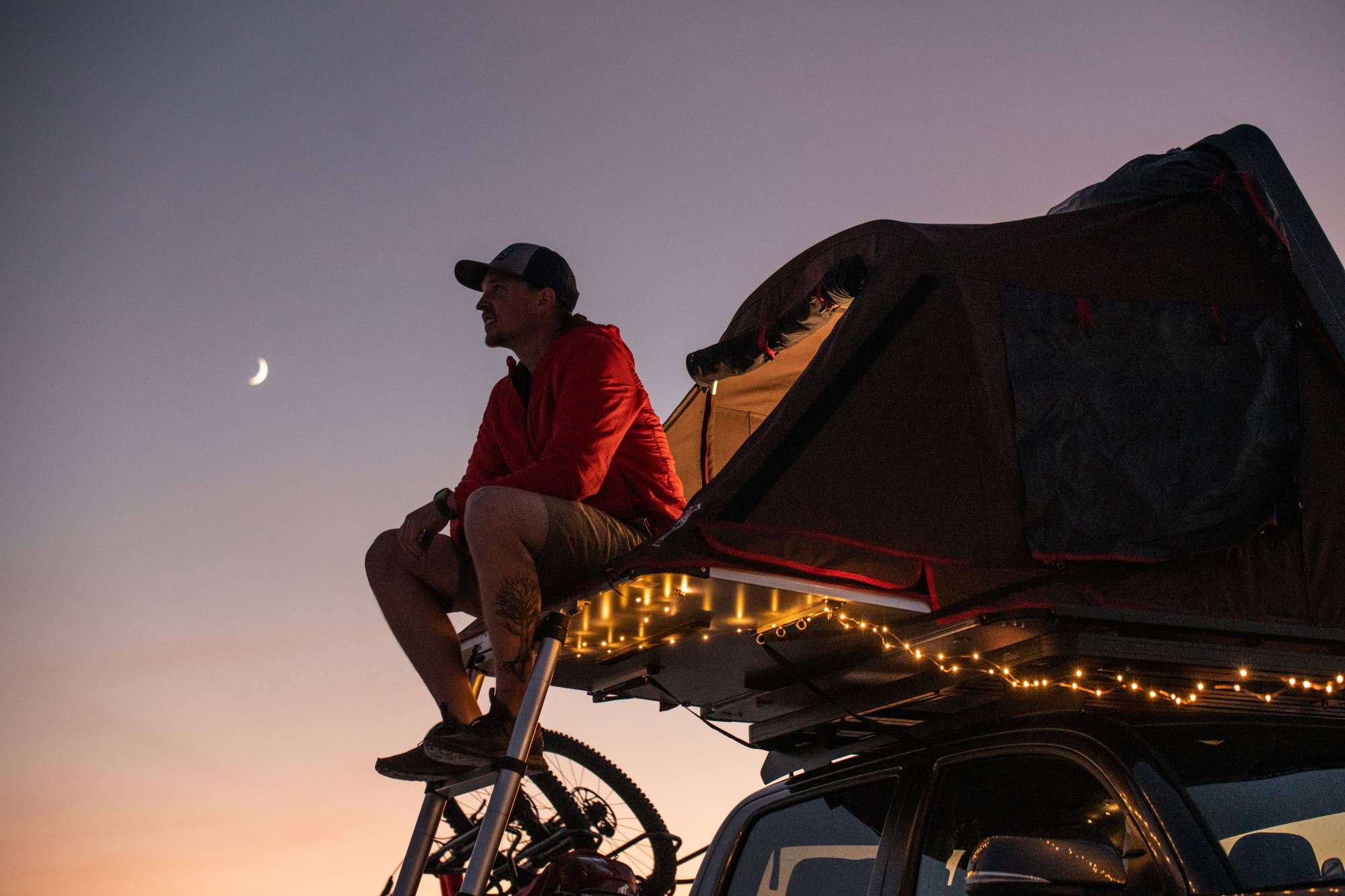 The most important rule in camping is to leave your overnight spot just as you found it. In other words, minimize your impact on the natural areas you visit; take only pictures and leave only footprints. Leaving trash behind should never even be considered - remember the saying "only trash litters!" Many people don't know that even compostable leftovers rot much slower in certain certain climates and particularly in high mountain areas than in valleys. The bacteria that break down compost need a warm environment (plus air and water), which can be elusive in many camping spots at certain times of the year. Taking your responsibility one step further, be a role model and pack out any leftover garbage from others that you may find.
As a camper in the wild, consider yourself a guest in nature; you should behave accordingly and try to preserve the natural living conditions for wild plants and animals as much as possible. Therefore, avoid noise during the twilight hours, when most wild animals are active and particularly susceptible to disturbance. You wouldn't want uninvited guests trampling loudly through your bedroom at home!
3. Choose Your Camping Spot Carefully
When choosing a place to spend the night, stick with durable surfaces to park your vehicle and set up your roof top tent. Some ideal areas would be existing trails and campsites, gravel, rock, snow, dry grasses, or other areas where vegetation is absent. You should also be careful of mosquitoes near bodies of water. It's best to choose a dry, well-protected place that's neither on a main road nor on private property. You should also be careful when staying overnight near cities, along highways, or near bars and other locations that are prone to traffic.
4. Don't Just Light a Fire
Before going on your trip, do some research about possible forest fire hazards and the area you're planning to camp in. Open fires are sometimes prohibited in protected areas and forests, so plan accordingly. In addition, observe regional and seasonal regulations that may change throughout the year. If fires are allowed, keep them small and be especially careful in drought conditions. Always use a safe camping stove for cooking, such as the Aioks.
5. Plan Ahead and Prepare
If you plan to go camping alone in the wild, being well prepared is imperative and often a matter of survival. Make sure you know what kind of weather to expect and pack your gear accordingly. Ensure that you have enough food for the duration of your stay, with some extra in case of emergencies. Bring a first aid kit for medical emergencies, and make sure you that someone knows that you are camping solo and when to expect you back. Another less-discussed but equally important topic is that of an outdoor toilet. Choose a place that is at least 200 feet away from your campsite, a trail, or a water source. Make sure the hole you dig is at least 8 inches deep, and use recycled toilet paper to take back with you in a garbage bag. Remember to cover the hole with the original dirt and use hand sanitizer!
6. Don't Do It For the 'Gram
We know how fun it is to share your adventures on social media - especially if you have an awesome roof top tent you want to show off! But we encourage you to do it in a way that is respectful to nature. There have recently been media reports about protected areas being subjected to harmful increased visitor traffic, often as a result of being tagged in pictures on social media such as Instagram. If you're traveling in areas where camping is not officially allowed, avoid tagging these places on social media. Just enjoy the place for yourself; use your cell phone only in case of emergencies or for private photos, and engage with the real here and now instead of virtual likes. Oftentimes, you will end up camping in an area where cell service might not be available, which allows for some much needed time away from your devices. If this is the case, make sure that you have some way to communicate in case of emergencies.

No matter if you are a beginner or an advanced camper, these tips will help you to have a pleasant and safe camping experience to enjoy nature without disturbing the wild. Respecting the beautiful parks and landscapes you camp in is the only way to enjoy them responsibly. While there are challenges to camping on your own, the comfort and convenience that iKamper roof top tents provide are guaranteed to make your solo trip much easier!