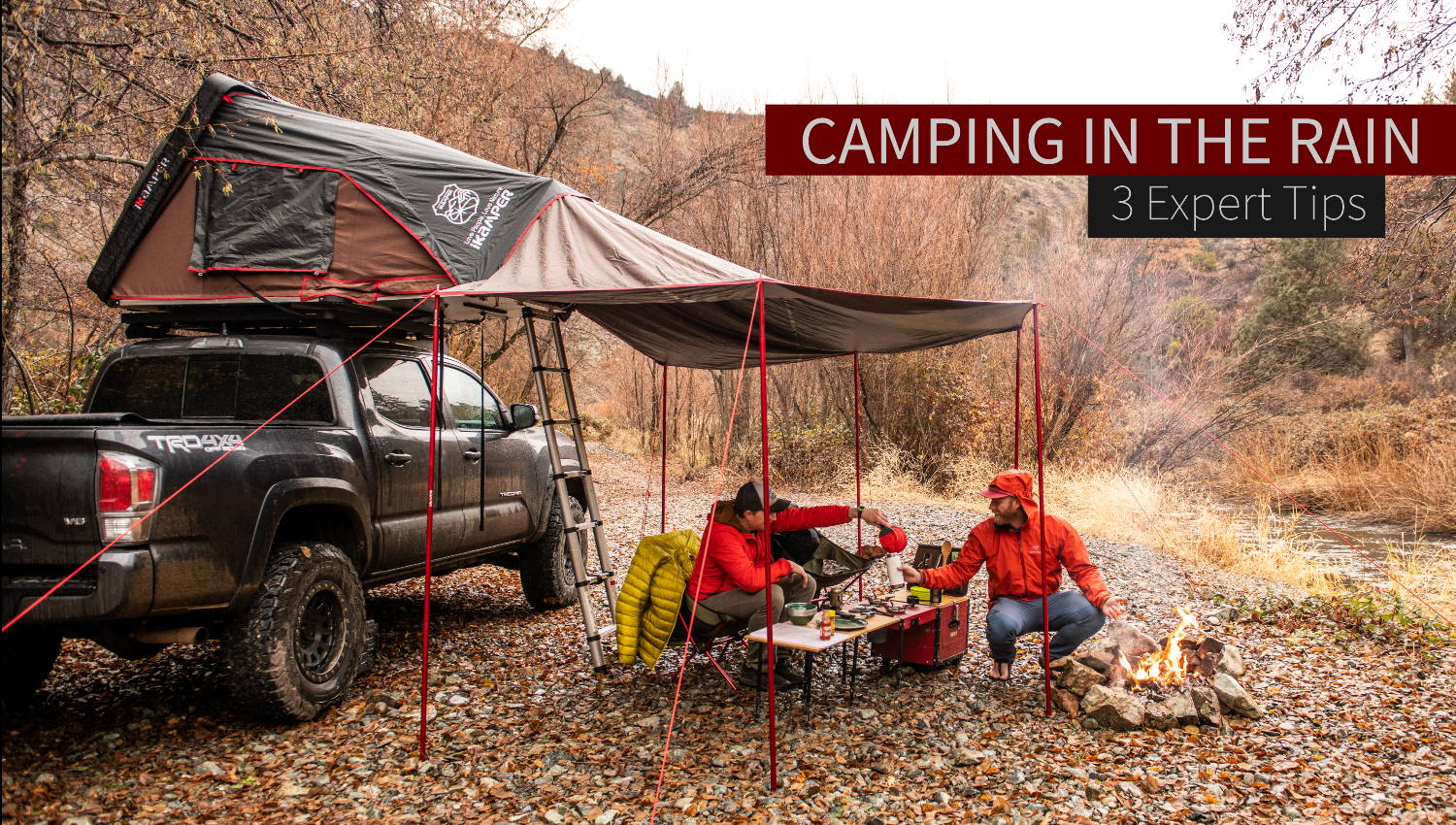 Camping in the rain is seen as a polarizing issue for some people, similar to camping solo. Many campers view camping in the rain as an exciting, raw, and natural experience, while others view it as a cold, drenched, and miserable experience. The iKamper team, based in the greater Seattle area, are definitely fans of camping in the rain. Where we live and often camp, rain is frequently an unavoidable reality and this blog post will give you some expert tips about how you can enjoy rain-soaked camping!
Is it worth camping in the rain?
The answer to this question really depends on if you can find a way to enjoy being outdoors, unplugged, and in the wild despite being in wet conditions. Camping in sunny, warm, and otherwise ideal conditions is great, but not every season or location will yield these kinds of optimal conditions. Waiting around for the right season or ideal conditions can lead to busy / overbooked campsites and missed opportunities to make lasting memories. Therefore, we're convinced that with the proper preparation, reliable and high-quality gear, and an open mind, you can make the most out of your trip and have an unforgettable experience!
- Know what kind of weather to expect before you go. Check the weather forecast for the area you'll be camping in so that you have an idea of what sort of temperatures and conditions you'll be camping in. If the forecast calls for storms or severe weather, use common sense and avoid camping in these conditions.
- Bring waterproof storage. Make sure to have dry sacks, plastic Ziploc bags, or even trash bags on hand to keep your clothes and other gear dry.
- Bring kindling and firewood with you. This will help you out in case all of the firewood at your campsite is soaked when you arrive.
- Bring plenty of food. If the weather is cold and rainy, your body will use more energy to maintain temperature. Don't skimp on the food!
- Bring food that doesn't require cooking. If the weather is really bad, it can make cooking a very difficult task. Many outdoor equipment stores sell pouches of food that can be enjoyed by just adding boiling water or eaten straight out of the package.
- Bring towels. You will be glad that you brought these if you return from a rain-soaked hike and find that your campsite is also drenched.
- Bring rain gear. We're talking waterproof boots, rain pants, rain jackets or ponchos, and even waterproof hats to complete your 'fit. This is an absolute must-have when camping in a downpour, and don't forget the layers underneath your rain gear to stay warm.
- Bring sufficient lighting. When the skies darken, you need to see where you're going and where your gear is, so make sure to have fully-charged lights or plenty of backup batteries. Some campers opt for long-lasting glow sticks that they can attach to their ladder or guylines that might otherwise be a tripping hazard in low visibility.
- Don't set up your RTT under trees. Even after the rain has stopped, you're going to get water dripping off of the trees onto your campsite. In stormy conditions, branches can also pose a threat to your safety.
- Don't set up your RTT downhill. If there's flooding, your campsite runs the risk of turning into a pond or even a lake.
- Bring board games, books, or something to do inside. If the weather prevents you from enjoying being outside of your tent, find a way to enjoy your time inside of it.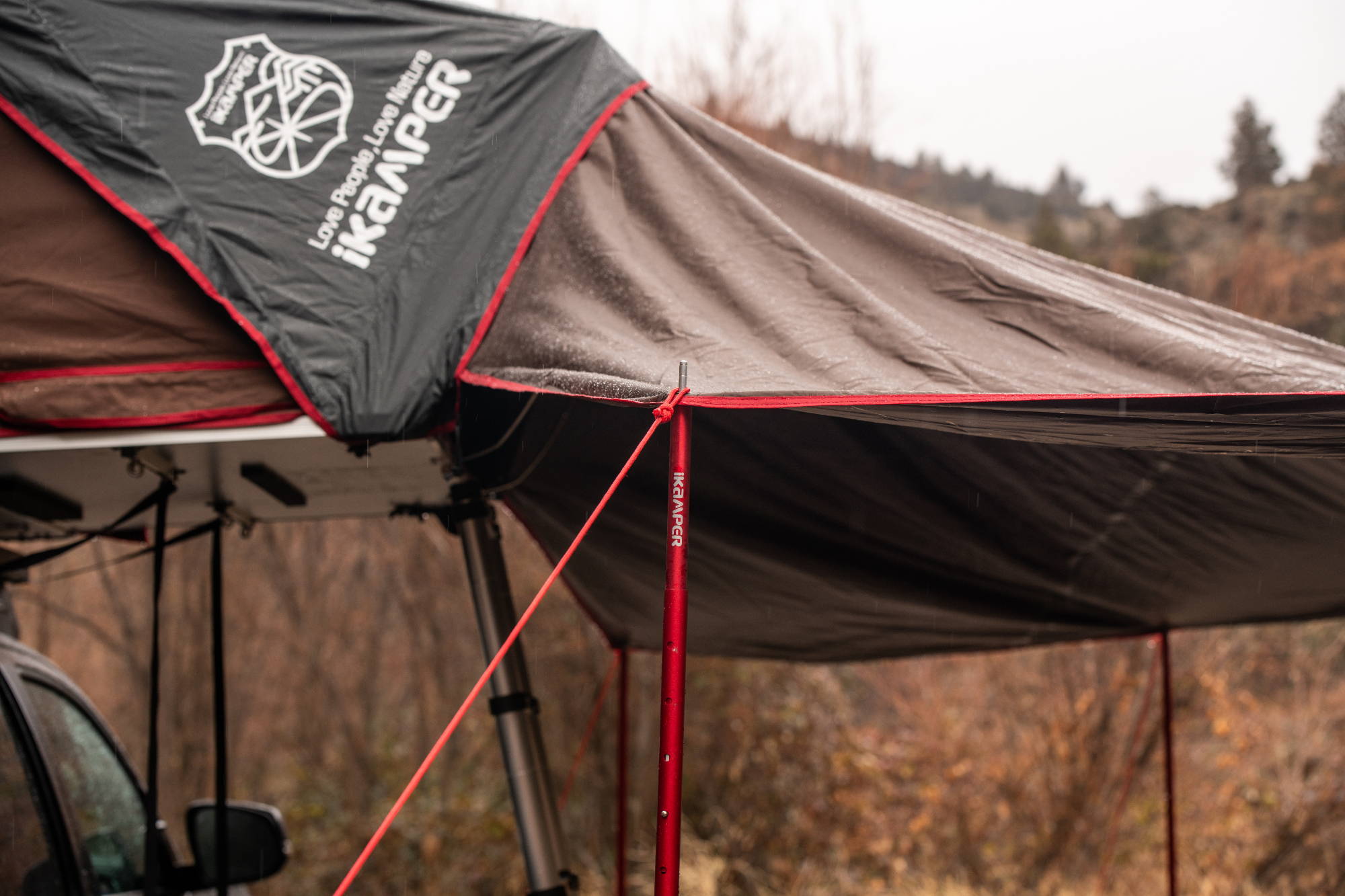 RELIABLE AND HIGH-QUALITY GEAR
- Make sure your tent is properly waterproofed. iKamper RTTs are made of breathable, water-resistant poly-cotton canvas and have waterproof seams and zippers. Each window, door, and Skyview on an iKamper RTT has a transparent and waterproof vinyl layer. In addition, all iKamper RTTs come with rainflies, which help immensely with keeping you and the entrance to your tent dry. 
- For added protection from the rain, try the Rain Canopy. This provides even more protection from the rain when entering and exiting your RTT by covering the ladder area.
- For a larger, dry space, set up your Awning. Easy to set up, it zips right onto your tent entrance for ease of use and is a great place to store your wet rain gear. The spacious Awning is supported by four canopy poles and six ropes, and is 100% waterproof.
- For the maximum protection and shelter, there's the spacious Annex. An entirely enclosed room that's fully waterproof, this provides a living space that's ideal for gathering with your friends or even cooking when it's rainy and the wind is blowing. When the rain eventually stops, you can convert the sides of the Annex into canopies to allow in airflow.
- Bring a thick tarp. To avoid walking around in mud, you'll want to bring a durable tarp so that you can create a dry floor where you set up your RTT. This will work particularly well if you have an Annex for rain protection from all sides.
- Store your shoes and boots in a Shoe Rack. This lightweight accessory hangs from the front of the tent and can hold six pairs of shoes, keeping them easily within reach when coming and going. It also features a rainproof cover and can be folded for easy storage.
- If the weather turns cold, make sure to have an Insulation Tent. The Insulation Tent adds a warm inner layer to your RTT by attaching to your tent's interior, and setup takes less than five minutes. You can even leave it inside your tent when it's closed simply by unclipping it. Sometimes the rain can unfortunately prevent you from keeping a fire going, so make sure that you have enough warmth in your tent to take refuge in.
- For a portable, convenient kitchen, bring along your Aioks. Unless you're in an RV, your cooking setup can be limited, especially when camping in rainy conditions. For a more convenient cooking experience, iKamper offers the Aioks (All-In-One Outdoor Kitchen System), which has everything you need for outdoor cooking in a single box and fits easily under an Awning or in your Annex.
- If there are strong winds, turn your hardshell to face the wind. This applies to iKamper owners who have the Skycamp series of tents, and is a great hack to minimize noise and shaking when strong winds abound.
- If it's muddy, make sure to have traction mats for your vehicle. In the event that you get stuck in the mud, you'll be thankful you brought these along. These are very useful and widely available from brands like MaxTrax.
- Avoid cotton and buy clothing that lasts. Choosing polyester or wool for your layers under your rain gear will keep you warm and dry. When cotton gets wet, it stays wet, and that will make you colder; be sure to bring extra pairs of your base and mid layers in case they do get wet. Don't skimp on quality to save money when it comes to your base and mid layers; make sure to invest in durable gear that will keep you warm on your adventures for years to come.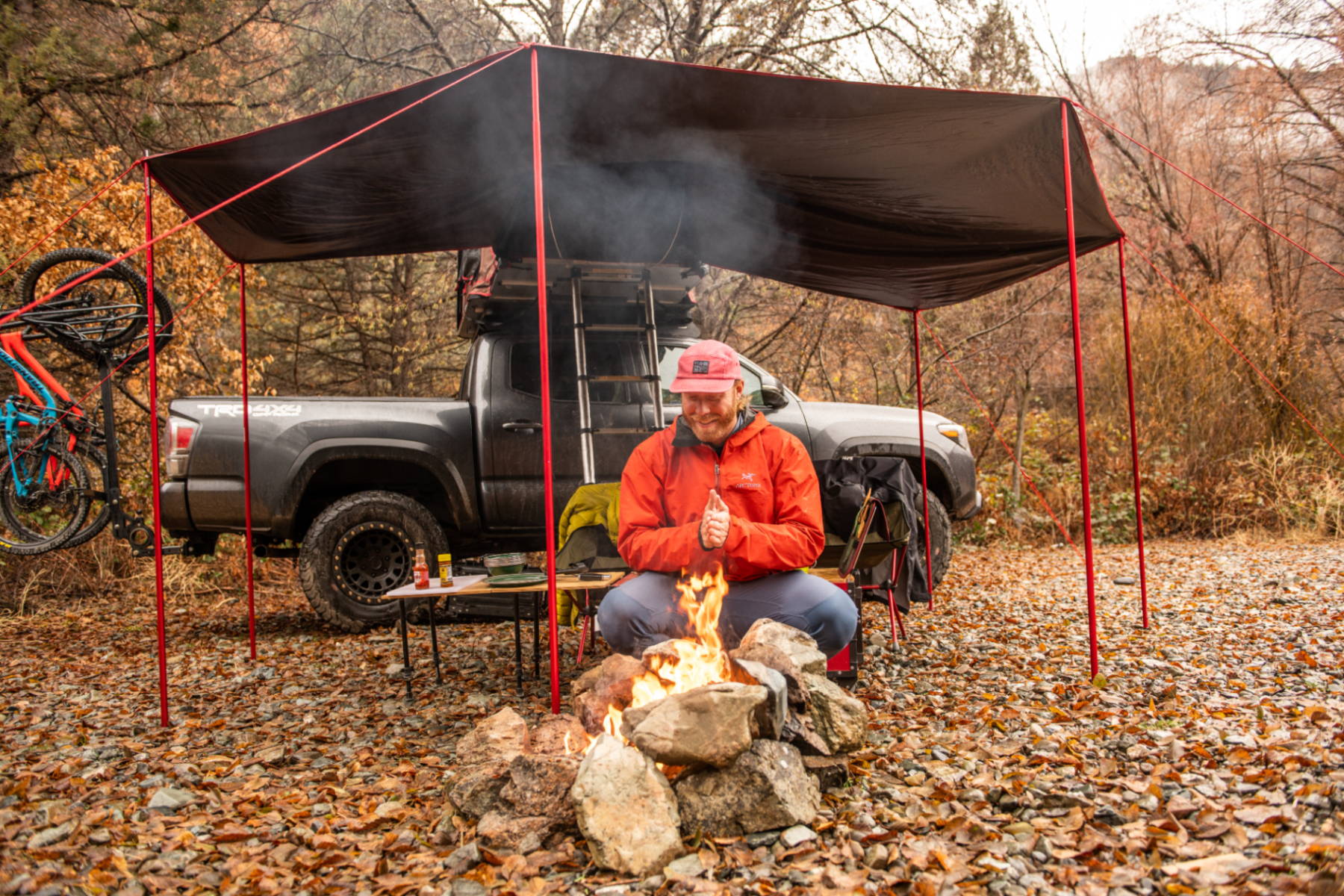 It's fun to make plans to go camping and spend time outdoors with people you care about. It's a chance to leave the routine behind for a bit and become more grounded and connected. However, weather patterns are sometimes unpredictable, like life itself. Facing this reality doesn't mean that you have to kiss your plans goodbye; it just means that you have to adapt, and possibly wait for the weather to improve. 
Instead of going climbing or hiking in a thunderstorm (which we strongly advise NOT doing), find a way to enjoy your time in the outdoors while taking shelter in your campsite. Prepare a hot meal or sip on a beverage to enjoy your time while the rain passes, talk with your companions, or write in your journal to reflect on the good things you're experiencing. Being flexible is easier said than done, but a positive attitude will take you farther than you might expect. So don't let the water get you down, and say yes to an adventure that you'll be glad you didn't pass up!