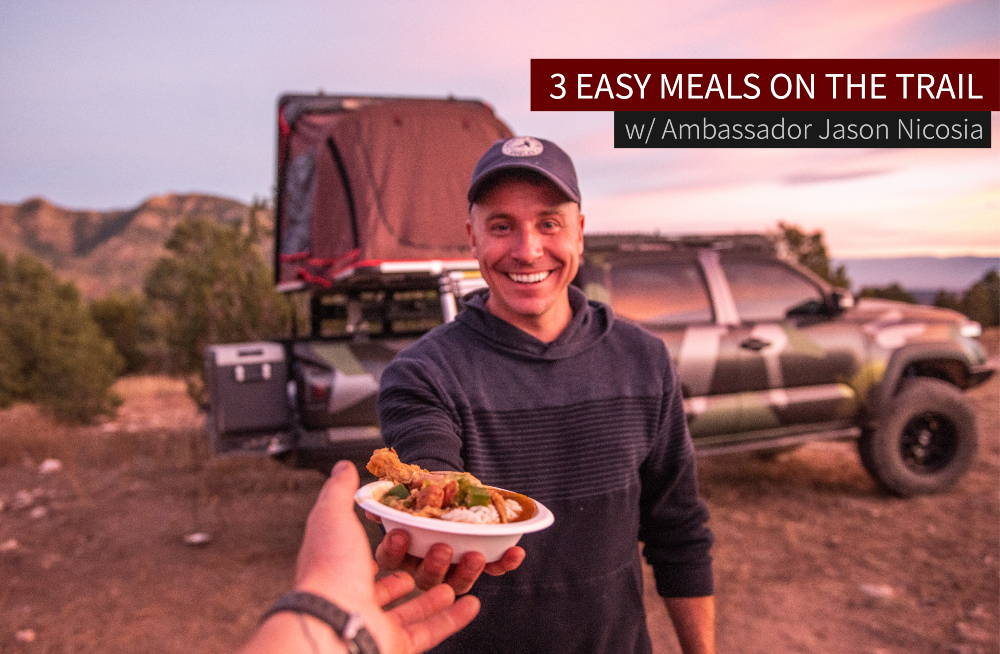 When packing for a weekend camping trip, I'm almost 100% of the time going to be packing some sort of steak. It is easy to prepare over a variety of grills, stoves, or directly on the campfire, and it just feels right to be biting into a slab of red meat after a full day of adventuring on the trails. 
Unfortunately, I can't have steak for every meal, so here are 3 super easy recipes that anyone can make while on your next camping trip. I broke them down into Easy, Easier, and Easiest. 
7 Ingredient Pasta Carbonara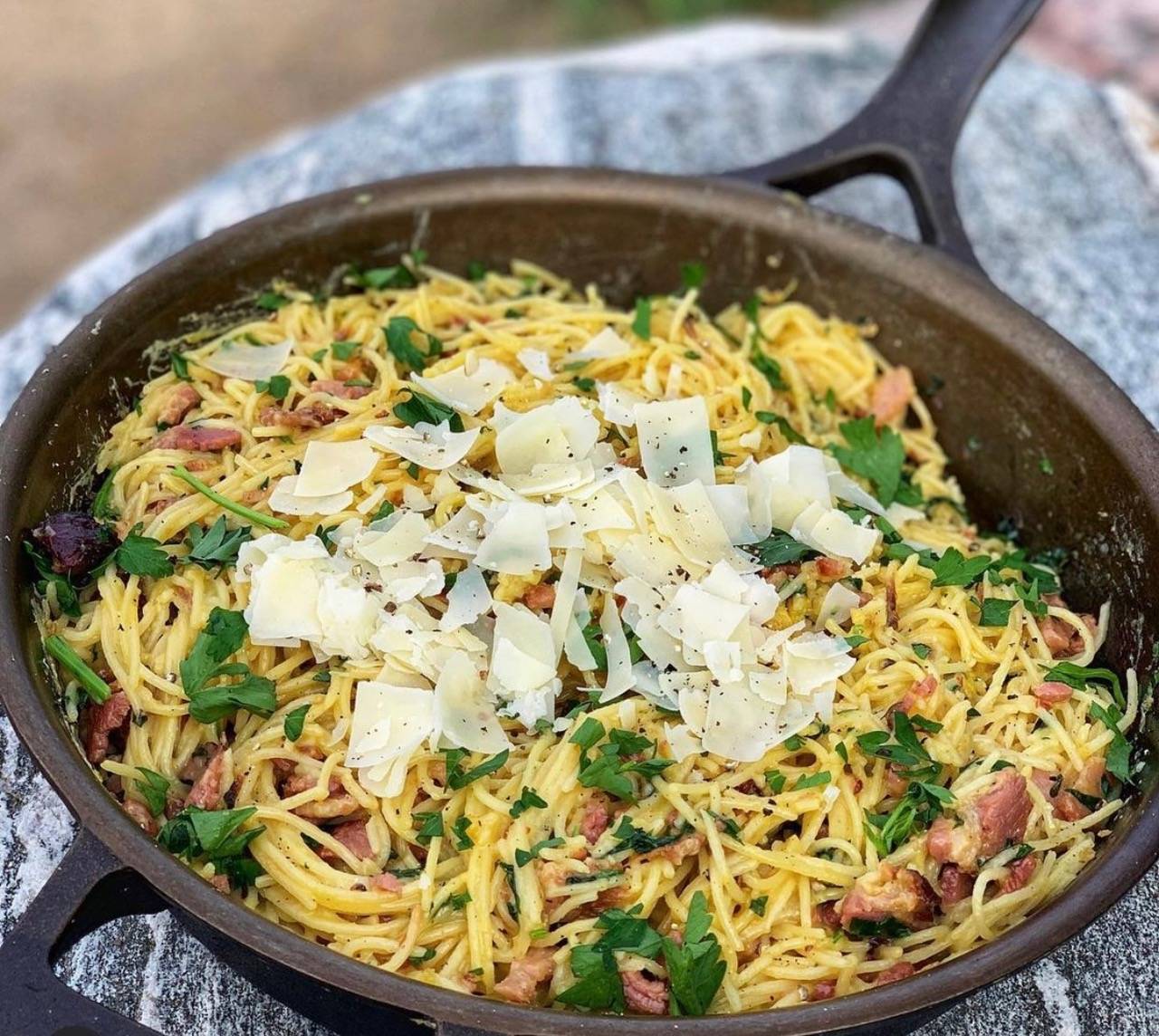 Ingredients:
- 2 large eggs and 2 additional yolks
- 1 package (16oz) spaghetti pasta (If you're making it from scratch, use 2 cups of flour and 3 eggs)
- Coarsely ground black pepper
- 2 cloves of garlic minced
- Freshly chopped Italian Parsley
- Grated Pecorino Romano cheese (use as much as you like for sauce and garnish)
- 1/2 lb of Panchetta/Bacon
This is one of the best traditional pasta dishes out there, and the great thing about it is you probably already have the ingredients in your pantry already. Another thing that makes this dish great for camping is except for the spaghetti/noodles, you make everything in one dish. 
Crack your 2 eggs, and add another 2 yolks to a bowl, and then add a generous amount of cracked black pepper, along with your pecorino Romano cheese. Start mixing your sauce and add the cheese slowly till the whole mixture is a little thickened up. If your cheese isn't grated fine enough, it won't work. 
In a piping hot skillet, cook off your pancetta until just before crispy, and then add your minced garlic, and cook for another 3 minutes. Once it is all nice and cooked down, you can remove a little bit of the rendered fat, but that is absolutely flavor and will coat your pasta noodles nicely. Turn the heat off and add your chopped Italian Parsley to the skillet. 
Now it is time to add your al dente pasta noodles, toss, and then turn on your heat to low, and slowly add your egg yolk, cheese sauce. Just toss lightly until everything is warm, and then remove from the heat or your eggs will begin to cook and ruin the sauce. The bacon/pancetta should add plenty of salt, so now all you need to do is grate a little more cheese on top and serve it up! I made a YouTube video about this a while back. You can find it here.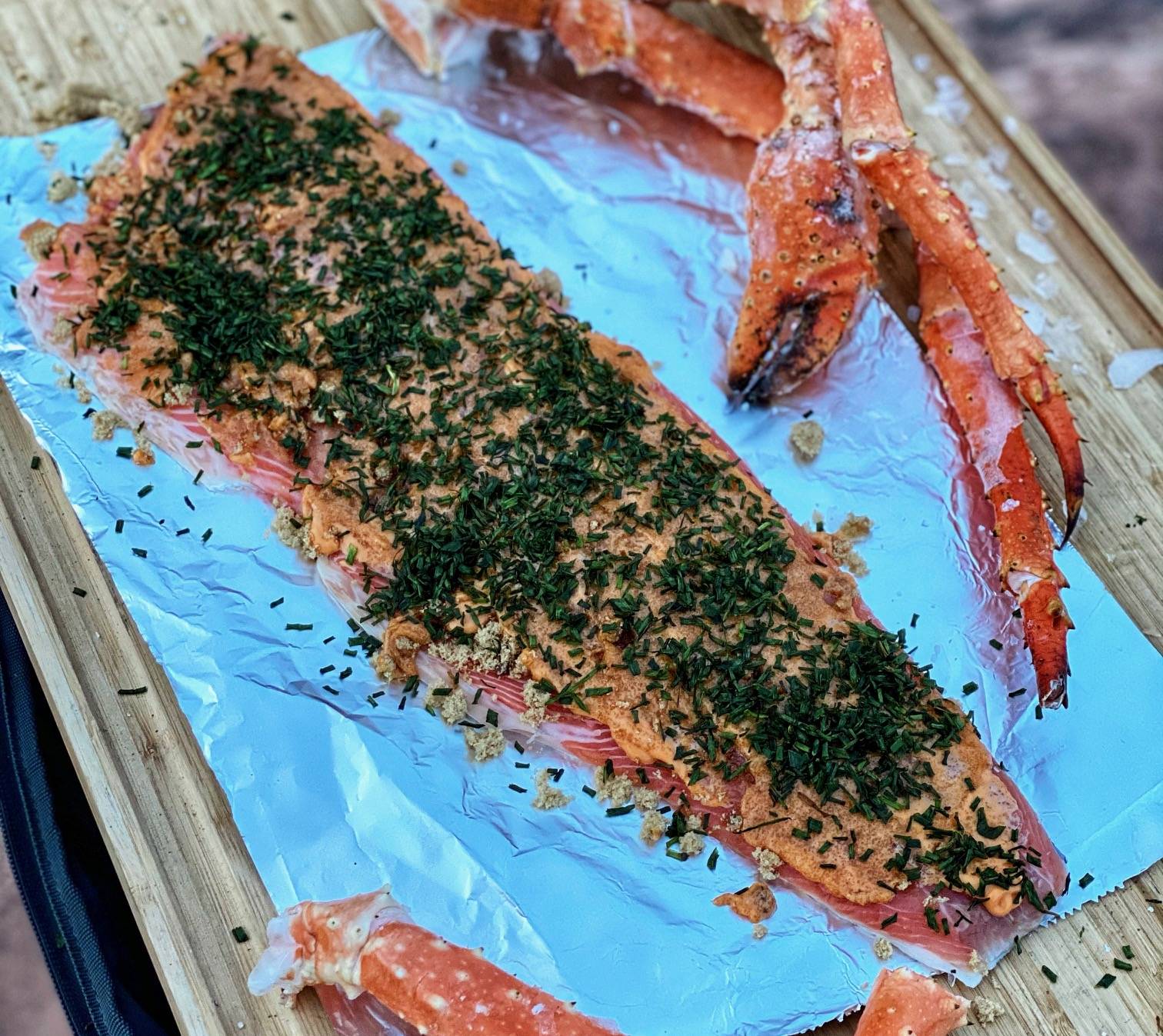 Ingredients:
- 1 filet of fresh salmon with the skin on
- Brown sugar
- Salt
- Spicy Sriracha Mayo
- Fresh chives
This dish is always a crowd pleaser, and only takes a few ingredients. The Sriracha Mayo and brown sugar caramelize together to form the perfect topping for tender juicy salmon. 
Here's what to do - Lay your salmon out skin down on a piece of foil, and then score the flesh in a criss cross pattern. Then salt lightly, and press generous amounts of brown sugar into the cuts you just made. (I always go crazy w the brown sugar, but you can add as much or little as you like). Then, coat the top of that with your Sriracha Mayo so that you can't see any of the fish. Don't worry, a lot of this will drip/melt off as it cooks. Once you've got that done, finely chop your chives and sprinkle on top of the sugar/mayo mixture. 
Cook it in tin foil on a rock right next to your campfire, or wrap it up and place it directly into some hot coals. You can even use a portable smoker or bbq (my personal favorite) till the meat is opaque and done. The only way to ruin this dish is overcooking your salmon, so be careful it doesn't dry out. Serve it up with some sesame & soy sauced green beans for an Asian inspired camp meal. Enjoy!
Ingredients:
- Vegetable Oil
-Grands Flakey Biscuits
-Cinnamon
-Sugar
Of course we have to include a dessert here. Most camp donut recipes will tell you to get the traditional biscuits and avoid the flakey kind. Don't listen! Ever heard of the "Cronut" aka Croissant Donut hybrid? These taste just like the best you've ordered but you've got to get that flakey dough.
Fill 1/3 of your cast iron skillet with vegetable oil and get it nice and hot. A good way to test if you've got the temperature right is to throw a little bit of the dough into the oil. If it begins to brown, then your oil is ready. Make a nice hole in each of the biscuits, but be careful not to play with the dough too much or you won't get those flakey layers to your donut. Go ahead and fry till golden brown on each side, flipping with a pair of tongs. Be careful with the oil or you'll burn your hands off! 
Once they're done, pull them out and immediately put them in a bowl/bag with your cinnamon and sugar mix. If you do it immediately, the excess oil will help the sugar stick. If you bring sprinkles, chocolate, powdered sugar, and even a little bourbon, you can make endless variations of these. Your kids will want to do these for every meal of the trip!
There are tons more recipes (and steak pics) on my instagram. You can usually find me cooking up adventures and camping out in my iKamper across the Colorado Rockies most weekends. Life is short. Eat well!
- Jason